The upcoming UFC 153 card will pit Brazilian pound-for-pound superstar Anderson Silva against "The American Psycho" Stephen Bonnar in a match that many are saying will be the worst one-sided massacre since Griffin vs Silva (for those of you that have not seen the Forrest Griffin fight, Silva sustained absolutely zero damage and knocked down Griffin multiple times with jabs while dodging punches with his hands down).
Some betting lines have Bonnar as a 14-to-1 underdog, which is not outrageous considering Silva's unparalleled dominance in the sport throughout the last six years. He has completely dispatched almost all of his opponents with ease and the few times we've seen The Spider in a less than dominant position, he's always managed to rally a comeback and remain the champion.
Recent interviews with Bonnar reveal him to be a really honest, humble and down-to-earth guy. Anyone that has followed the fighter since his stint on the first installment of The Ultimate Fighter Reality Show already knows this. Here is a recent interview with Stephen Bonnar and Karen Bryant from MMAHeat.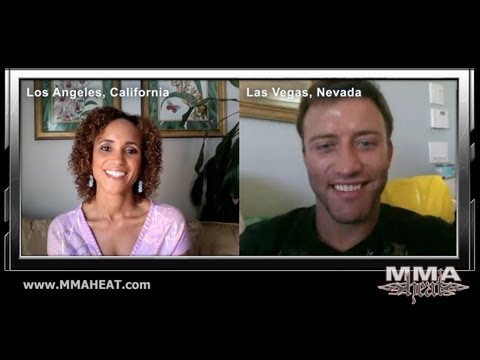 Today also featured the UFC 153 Media Conference call. There were no fighting words between the fighters but we brought you some sound bites from the recent call.
Bonnar on fight preparation: "Making weight's always been easy. I'm in good enough shape to fight three rounds."
Bonnar on the biggest fight of his career: "I don't know if the bigest fight is supposed to come at he end of your career. I've had some big fights on some big stages but the biggest fight that had the biggest impact was the fight with Forrest. The chance to fight the greatest, pound for pound in the world, in a place like Brazil is just crazy. It's like i'm in a movie."
Bonnar on getting a victory: "I really can't discuss this. Let's look at it for what it is. He's a really great accurate striker. I gotta make it a little uglier and be aggressive and be able to eat a punch to land a punch. And that's about as much as I want to give on this."
Bonnar on Silva's past fights at 205: "He still looked very fast and he performed flawlessly."
Silva on three round vs five round fights: "Every fight is a fight. I'm training the best that I can to put on a great show. Win or lose I want to put on a great performance for the fans. Every UFC fighter should be ready to fight, 1, 2, 3 rounds; however many rounds it takes."
Silva on fighting Bonnar: "Everyone in the UFC is prepared to be a great champion… to win. The greatest fighters. Stephen Bonnar… it's an honor to be fighting him. Definitely going to be a great challenge. I wanted to take this fight to give back to all of my Brazilian fans that have supported me. This will be one of the bigest UFC fights in my career."
Silva on Brazil and its place in MMA: "I believe it's important for everyone to recognize the value of Brazil and our athletes… the performance of our athletes in MMA. I'm not putting down all of the other countries. Everyone has great fighters but Brazil has a strong history in MMA and very capable athletes."
Silva on a title run at 205: "There's other guys in that weight class on our team. Rafael Feijao and Minotauro Nogueira that will face Jon Jones in the future. My weight class is 185. I'm 37 years old. I feel that I need to be honest and conitnue what i've built, which is to keep defending my belt at 185."
Minotauro on Herman's comments that BJJ doesn't work: "Everyone can talk whatever they want to, you know? My BJJ works very well. I have like 33 wins in my career 20 of them by BJJ. I believe they work. Some of my last fights I did try to strike more. You know for this fight especially i trian a lot of BJJ. If I have a chance to win on the ground I will go for it… you know a submission and knockout. I"m training more my BJJ."
Minotauro on his recent arm injury and recovery: "My arm is feeling pretty strong. I'm ready to go. I'm hungry to fight. I was asking the UFC to fight. I now have a chance to represent and fight in Brazil."
Minotaur on making at title run and fighting Junior Dos Santos: "I don't like to fight him. If I get chance to fight another guy, if he does not have the title, for sure I will."
Stay tuned for more news and updates for UFC 153 and other MMA News here at TheFightAnalyst.com.